Missa Universalis
Great celebrations for the Carabinieri for the 200th anniversary of the presence of the Carabinieri in Chivasso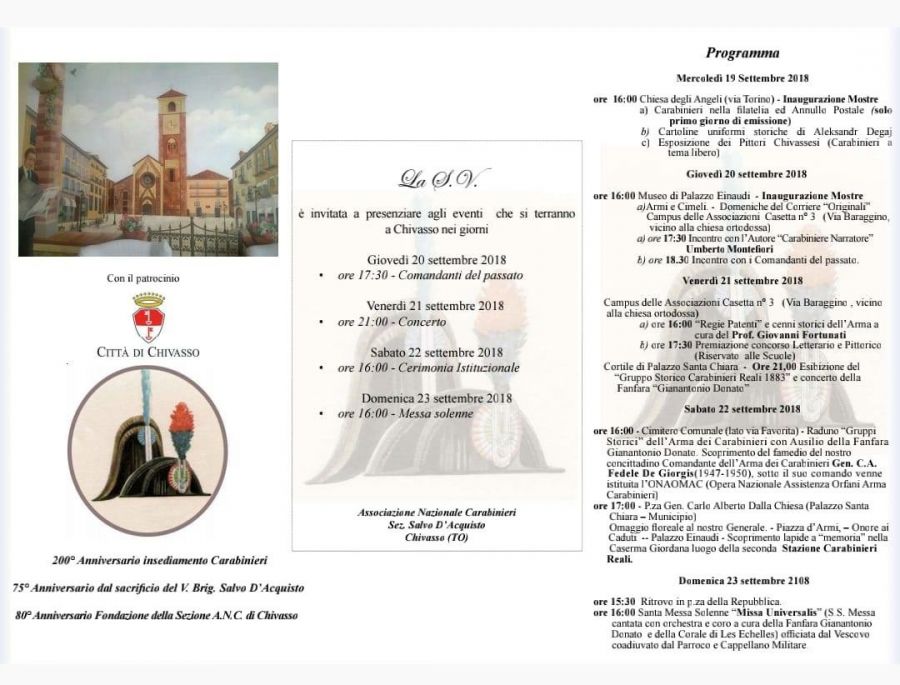 Event | Date: 23/09/2018 - 16:00 |
Great celebration for the Carabinieri for the 200th anniversary of the presence of the Carabinieri in the city, the 75th anniversary dedicated to Salvo d'Acquisto, the 80th anniversary of the foundation of the Section and the I ANC Historical Groups Meeting.
The celebrations organized by the "Salvo d'Acquisto" section of the National Carabinieri Association will open on Wednesday 19 with the inauguration of the thematic exhibitions held at the Church of Santa Maria degli Angeli and in the exhibition space of Palazzo Einaudi, the exhibitions dedicated to weapons and memorabilia and on the Sundays of the Corriere.
Friday, at Palazzo Einaudi, which hosted the Second Royal Carabinieri Station, the discovery of the family with memory of the General Chivassian Fedele De Giorgis, Commander of the Carabinieri, under whose command was established the National Opera Orfani Assistance Arma Carabinier.
Saturday will be paid tribute to General Dalla Chiesa, then honor to the fallen in Piazza d'Armi.
Sunday 23, after the visit to the Basilica of Superga, at 4 pm, in the Duomo, solemn mass "Missa Universalis", played and sung by the "Gianantonio Donato" Fanfara and the choir of Les Echelles and presided by the Bishop of Ivrea, monsignor Edoardo Aldo Cerrato.