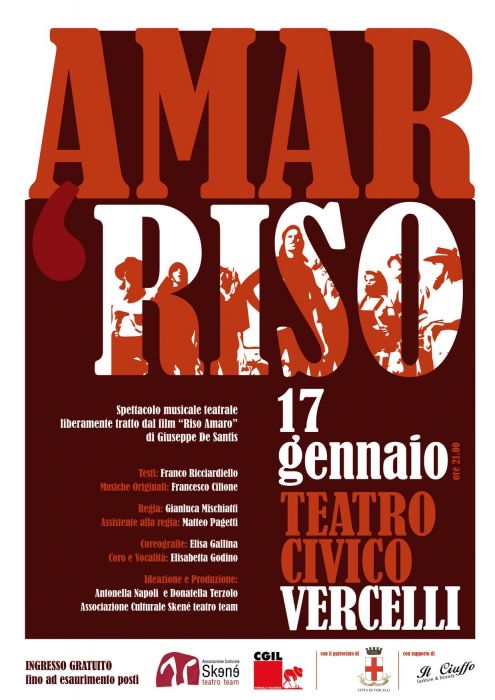 Event | Date: 17/01/2020 - 21:00 |
Seventy years after the release of "Bitter Rice," a masterpiece by Giuseppe De Santis that told the life of the rice cookers, set in the Vercelli countryside, he returns to the Civic Theater, where he had already been represented two years ago, "Amar Riso".
Ample space will be given to the musical parts, performed rigorously live and curated by Francesco Cilione who thought of an alternation of traditional songs and songs written specifically for the show.
Directed by: Gianluca Mischiatti
Texts: Franco Ricciardiello
Choreography: Elisa Gallina
Chorus and vocality: Elisabetta Godino
Concept: Antonella Napoli and Donatella Terzolo
Production: Ass. Culturale Skené Teatro Team
The re-presentation of the show was strongly desired by CGIL Vercelli-Valsesia: a reflection proposed to the city on the difficulties of work when it is precarious and migrant, in the constant search for better conditions, where, however, there are still roots of many current social aspects.
The appointment with "Amar Riso" is for 9pm on Friday 17 January at the Civic Theater. Admission free while places last.