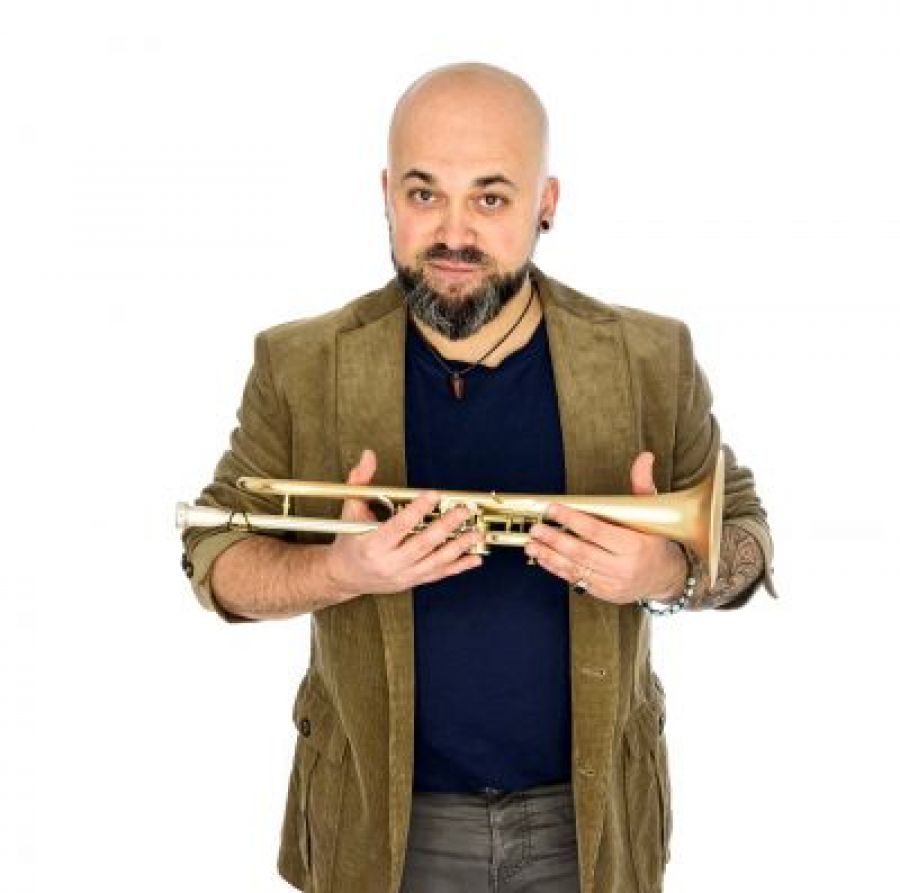 Hello everybody, I'm not used to tell what I have achieved, because I think it more useful to look in front of me; but as many of you still don't know me, I will try to sum it all up...
I started playing the electric guitar when I was 12 years old, but some years later while trying to play a friend's trumpet, I understood it was my vocation!
So I gave the guitar up and started studying the trumpet in Vercelli (my adoptive city) and in Asti; finally, I went to the Conservatoire de la Vallée d'Aoste, where I got my diploma with M° Davide Sanson. Always in Aosta I attended the bi-annual course of High Musical and Artistic Education, graduating with a work on contemporary music.
During my education, I attended various masterclasses held by internationally renowned musicians, both in the classical and jazz music areas, and I obtained the European Diploma of Chamber Music at the CFP of Montegrosso d'Asti.
I won the first prize at the XII° "Flicorno d'Oro" International Competition of Riva del Garda (cat. Eccellenza) with Orchestre d'Harmonie du Val d'Aoste in 2010, with 95.83 marks, the highest evaluation ever assigned in all the previous editions of the competition.

My project "Orchestra Nuove Direzioni" of Turin granted me the critics award at the VI° FITA National Festival (2013) for the musical "Belle e la Bestia".

I played with the "G.Verdi" Chamber Orchestra of Asti, the "Orchestre du Conservatoire de la Vallée d'Aoste", the "ICO Orchestra" of Magna Grecia - Taranto, the "Camillo Sivori" Philarmonic Orchestra of Finale Ligure, the "1813" Orchestra of Como, the Orchestra of "I Pomeriggi Musicali" of Milan, the Classical Orchestra of Alessandria and the Orchestra dell'Opera Italiana of Parma.
I had the pleasure to play in various national and international festivals such as: "Asti musica", "La semaine du funk" in Bordeaux (France), "Vignale Danza", "JAZZ:RE:FOUND", "Antichi Cortili, Giovani Talenti" in Genoa, "Aosta Classica", "CONCERTS D'HIVER" in Aosta Valley, "Festival della Valle D'Itria" in Martina Franca (TA), "Musiques et danses d'Europe" in Valance (France), "MUSICHE IN MOSTRA" in Alessandria, "Mysterium Festival" in Taranto, "Festival Internazionale Musica e Cinema A.F. Lavagnino"... playing with great musicians such as Allen Vizzutti (Worldwide renowned trumpet player), Joe Alessi (first trombone of New York Philharmonic Orchestra), Gene Pokorny (solo tuba of Chicago Simphony Orchestra) etc...
I wrote the arrangements of the winds section and played for the recording of the "Eroironico" CD of Pagliaccio produced by "Meat Beat Studio" and recorded the trumpet parts of the "Songs of Mountain Stream" CD by Carlot-ta – artistic production by Rob Ellis.
I also recorded the trumpet part in in "Drops of God", track included in "The Art of Complications" by Dimitry – Fusioncore records, Skien (NOR).

I recorded the première of "Acqua Alpina", written and conducted by M° Ferrer Ferran, with the Corps Philarmonique de Chatillon.
I recorded a "video postcard" for the Rai1 TV show "L'anno che verrà" conducted by Carlo Conti, with the Ensemble de Cuivres de la Vallée d'Aoste.
I recorded "Ballata", track included in the audio-tale "Milla vuole volare", distributed by Edizioni IMAGINARIUM all over the world.
In 2012 I produced the "tURN iT oN" CD with my Triodo Project, which obtained very good reviews both nationally and internationally.

In 2016 I wrote and performed a duet for Trumpet and Soprano entitled "Pique-Nique" that accompanied "Petit déjeuner sur l'herbe amb Joan Brossa" artist's book by Roberto Gianinetti, reported work and exhibited at MACBA in Barcelona, in 'October the same year.

Since 2016 I am part of "free signal" artistic vercellese redevelopment project of disused telephone booths and in the first national (November 12) I played with my duo "Elephank Project" in one of them.

I am the creator of "Arnia" project, for which I composed and performed a new composition for Trumpet and Bees live, this performance aroused the interest of the national and international press and in 2019, I also performed it for the opening night of the 7th FIM (hall of training and musical innovation) of Milan.

I composed the original music of "Amar Riso," a musical inspired by Bitter Rice (Verista masterpiece of 1949 directed by Giuseppe De Santis), which debuted in 2017 premiered "sold-out" at the Civic Theater of Vercelli.

In 2018 I composed the music for six of the poems taken from the book "Gli Infiniti Diversi" by Carlo Olmo, finalist in the 4th edition of the international Salvatore Quasimodo prize.

In 2019, in collaboration with the record label Sample Connection Records, I presented at the Novara Jazz Festival "Trust and Roll" the first single 7" vinyl of my Elephank Project.

I am co-author of the soundtrack of the film: "Lupo Bianco" (prod. CinemaSet) winner in 2021 of the International Starlight Cinema Award at the 78th Venice International Film Festival and of Acireale's "Garitta" National Cinema Award.


At present, I'm working on various projects and I hope to be able to show something very soon...
Thanks everybody!